AC/DC power supply AC300
300W AC adapter
The AC/DC adapter AC300 is a new roda design based on a LLC topology for power up to 300 watt. The LLC resonant topology allows for zero voltage switching of the main switches thereby dramatically lowering switching losses. Moreover there is a synchronous rectification control on the secondary side that leads to a boosted efficiency. Efficiencies of > 98% can be achieved with LLC resonant converter.
Besides above, the special feature of this MIL power supply is best EMC properties according to MIL-STD-461G as well as a frequency range of 50 Hz, 60 Hz and 400 Hz. The hardened and powder-coated aluminum chassis makes it dust, vibration and water resistant and meet the environmental requirements of MIL-STD-810H. Connectors on AC and DC side are freely selectable.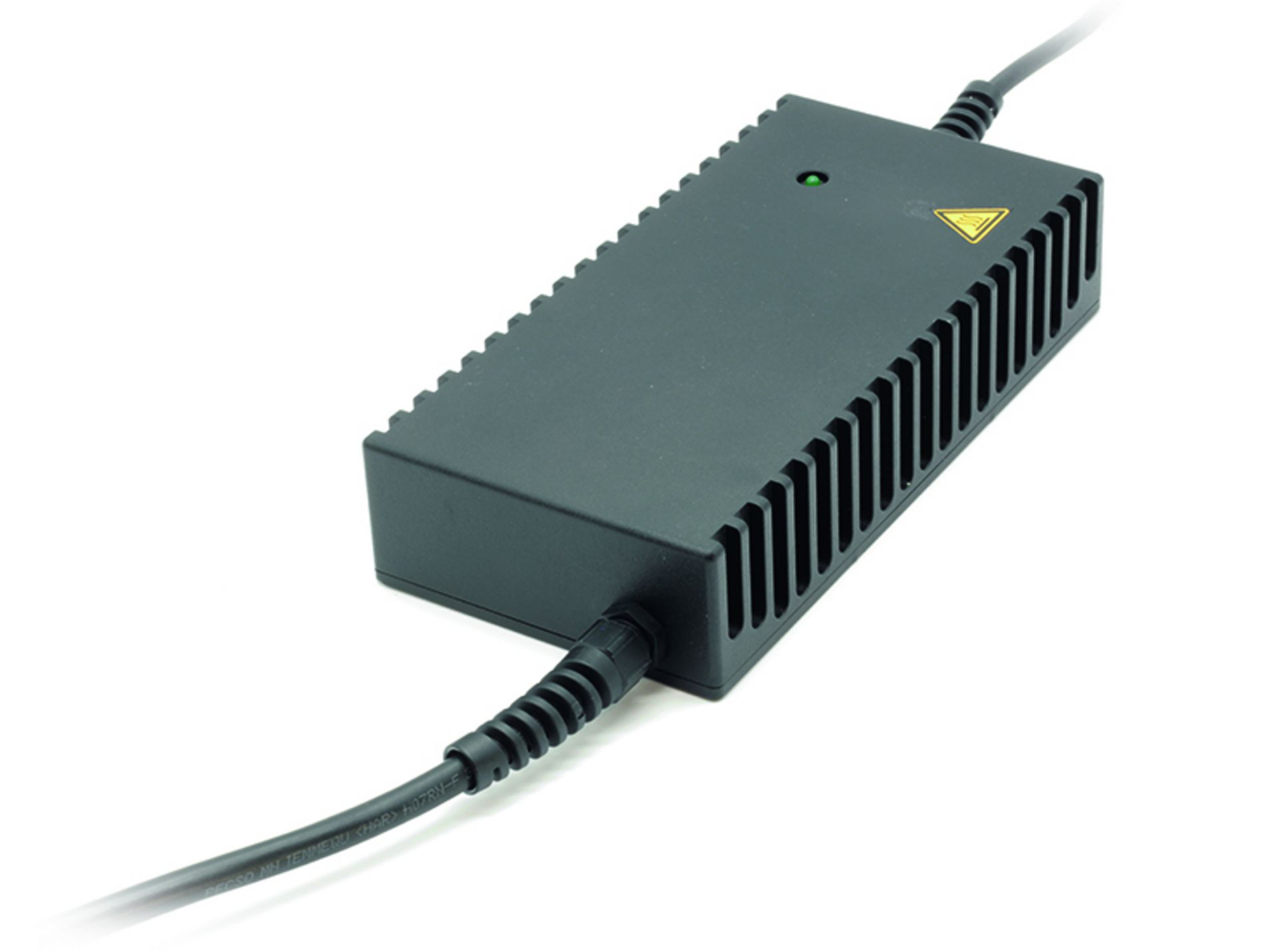 Input voltage
Frequency
60 Hz (110 VAC)
400 Hz (115 VAC)
50 Hz (230 VAC)
Input current
3.00 A (115 VAC)
1.50 A (230 VAC)
Output voltage
12 VDC ± 5 %
19 VDC ± 5 %
24 VDC ± 5 %
Output current
25.00 A (12 VDC)
25.79 A (19 VDC)
12.50 A (24 VDC)
Output Power
Efficiency
50/60 Hz typ. > 90 %
400 Hz typ. > 85 %
Protection Class
Safety
Overvoltage proof
Overcurrent proof
Short-circuit proof
Overload safe
Overheating protection
EN62368-1
Interface (input)
Connector (Schuko/NEMA/BS1363)
Cable length ca. 147 ± 5 cm
Interface (output)
Connector: customer specific
Cable length ca. 115 ± 5 cm
Dimensions [W×H×D]
237 x 49 x 118 mm (without cable fitting)
Weight
Protection class (IP-Rating)
IP67
IP protection is pending on the connection on AC and DC side and need IP protected connector (customer specific) AC/DC-Adapter meets IP67 protection!
Environmental specification
MIL-STD-810G

Temperature

Operating: -30 °C to +60 °C (Optional -40 °C)
Storage: -40 °C to +71 °C

Humidity
EMI
Designed to meet MIL-STD-461G