RD55-UHD
rugged 55" display
Following the success of the roda HEL concept at home and abroad, this product family is complemented by the HEL (High Resolution Electronic Positioning and Display) RD55.
HEL RD55 is the compact version that is used as a position table or also as a position display.
The 4K resolution and 55" display diagonal make the HEL RD55 ideal for working with 3D terrain models or for image evaluation.
The HEL RD55 is operated either by 10-finger touch or by mouse.
The 10-finger touch system used here is based on LED technology, which allows unrestricted operation even with gloves and when the display surface is wet. At the same time, the use of LED touch technology also enables approval according to SDIP Level B (ER).
The design of the HEL RD55 allows it to be used even in harsh environmental conditions, IP65 on the front, IP54 on the back, temperature range from -20 °C to +55 °C. The transport takes place in a specially adapted TuLB.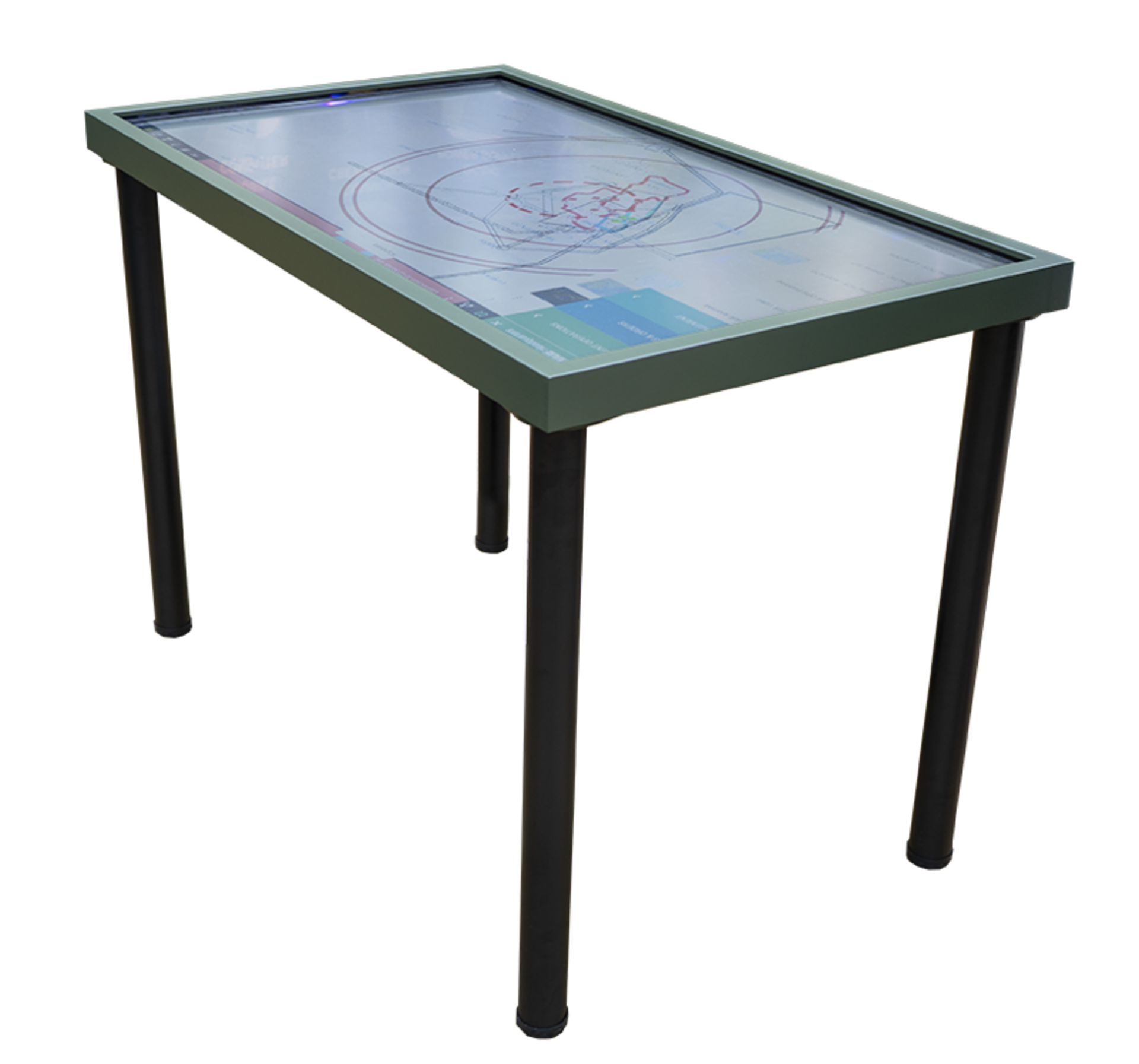 Display
LCD 54.6" UHD 4K (3840 x 2160 pixels)
Format
Touch
Infrared multi-touch screen (10-point)
Contrast
Brightness
typ. 700 cd/m² without EMC screen
Colour representation
Display of up to 1.07 billion (8 bit/colour)
Viewing angle
vertical: 178°
horizontal: 178
Response time
Connections
1x USB 2.0 (for IR-Touch)
1x DisplayPort
1x DVI (with roda Display Remote)
1x MIL DC-In
1x MIL camouflage light function
OPTIONAL: all connectors also available as MIL version!
Keys
Functions
Camouflage light mode
Circuit breaker
Power supply
18-32 VDC, nominal 24 VDC
Power consumption approx. 95 W
OPTIONAL: 230 VAC instead of 18-32 VDC input
Mounting
As display: VESA 400x400 or robust stand system
As table: Adjustable round feet
Certification
IP65 front / IP54 rear
MIL-STD 810F
MIL-STD461F (designed to meet)
TEMPEST BSI Zone 1 / NATO 27 SDIP Level B (ER)
Dimensions
1274,5 x 744,5 x 58,5 mm
Height of table legs: 820 mm
Weight
approx. 40 kg without EMC pane
approx. 50 kg with EMC pane + approx. 4 kg feet